Summer is here in the Florida panhandle and it's time to look forward to the extra daylight the hours you get to spend outdoors. Is your backyard a welcoming space for you? With a great fence, you can think of your outdoor space as an extension of your home. The pros at High Steele Fence are here to give you some help in choosing the right fence for your home.
Versatility With Florida Panhandle Fencing
There are many reasons Florida Panhandle homeowners can enhance their backyard with a beautiful, long-lasting fence. If you have a pool, you may need a fence to meet requirements in order to keep children and pets safe. And having a beautiful, well-built fence can also be an attractive feature to potential buyers should you decide to sell it in the future. Here are some more reasons our customers have chosen a high-quality, long-lasting fence from High Steele Fence.
Protection For Children and Pets — 

In Florida, there are specific regulations for pool safety, and having a fence around your pool is one of them. So installing a fence that meets these requirements will offer protection for your family. A fence can also give you peace of mind when your children play in the backyard while you attend to some chores. And a fence will ensure your fluffy pal won't wander off and get into trouble.

Privacy For Your Family — 

Everyone can appreciate a bit of peace and privacy while relaxing in their outdoor space. With a fence, you can celebrate events with a gathering of family and friends without the interference of neighbors. A quality privacy fence will provide a barrier from a curious passerby's prying eyes. 

Boost Your Security — 

While a fence cannot stop a determined intruder, it certainly makes the job more difficult so they will be likely to pass up your home for an easier target. Installing a fence will add an extra level of security to your property that will deter thieves and other unsavory characters from entering your yard. 

Boost Curb Appeal — 

There's no doubt that a beautiful, professionally installed fence by a Florida Panhandle fence company will enhance the look of your home. When it comes to aesthetics, installing a fence can be a work of art that will add beauty and value to your property for years to come. The outside of your home deserves to look as beautiful as the inside, and an attractive fence is just the thing to boost the curb appeal of your property.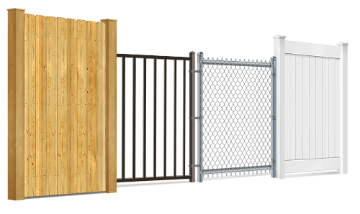 Florida Panhandle Residential Fencing Choices
The right fence can meet your needs, but with so many options, how do you choose one? With several basic styles of fencing available, each has many variations and customizations, giving you dozens of options. Here is some helpful information to get you started down the right path:
Vinyl Fences
When it comes to strength and the ability to withstand the intense sun and wet weather of the Florida Panhandle, a vinyl fence won't let you down!  Vinyl fencing won't ever fade, rot, peel, crack, or warp and is impermeable to insect damage. If low-maintenance is a priority for you, then you'll want to choose to install a vinyl fence so you can spend more time on the important things, not cleaning and maintaining your fence. An expertly installed fence by High Steele Fence will last for decades and its clean, neat aesthetic is appealing on any property. Furthermore, vinyl does not fade and is available in a variety of styles and colors.
Aluminum Fencing
Aluminum fencing is another virtually maintenance-free fencing option. An aluminum fence automatically adds an upscale look to your home and increases its curb appeal. Aluminum fences come in a variety of styles that are suited for all types of architecture, from traditional to contemporary, so don't be dissuaded from thinking your house isn't suitable for ornamental fencing. Aluminum, with its elegant design, is an excellent choice for protecting and beautifying your home while also providing value and protection! An aluminum fence can also enhance the landscaping of your home by not hiding the beautiful plantings you have cultivated around your lawn.
Chain Link Fences
A chain link fence provides convenience and strength for a quick way to safeguard your property. Chain link fencing is practical, relatively easy to install, and cost-effective for homeowners on a budget. Our chain link fences are galvanized to provide a rust-resistant and strong fence option. Many of our homeowners choose a colorized vinyl coating to add a more pleasant and protective finish and privacy slats are also available to increase the amount of view obstruction. 
Wood Fences
Wood fences can provide lots of natural character in your backyard so it's not surprising that many homeowners choose a wood fence for their property. Professionally installed wood fence styles are versatile and they are a great option for both security and privacy. The natural material can also be painted or stained to add your own individual touch. Another fun idea to spice up your traditional wood fence is to add hanging planters to the fence to expand your garden.
High Steele Fence is a full-service Florida Panhandle fence company and we are happy to expertly install your fencing for you – all you have to do is sit back and relax and we'll take care of the rest.
Ready to Work With a Top-Rated Florida Panhandle Fence Company?
No matter what type of fence you choose, you'll want to make sure you work with an expert Florida Panhandle fence company and the professionals at High Steele fence are here to help with quality fence materials and expert installation. We are happy to answer any questions you might have – you can call us at (850) 889-4059 or Contact Us online. As always, No risk. No obligation. No hard sales tactics…just friendly service!