Chain link fencing is a versatile solution perfect for many Pace Florida situations.  In this article, we will explore the basic information you need to know if you are considering chain link fencing for your Pace home or business.
Myth: Chain Link Fence is Ugly
Alright, let's deal with the main issue right up front … many people mistakenly think that chain link fences are "ugly".  Chain link fences have come a long way in recent years!  No longer the zinc-colored rusty steel metal fence of your grandfather's era, today's chain link fences come in attractive colors and styles!
Chain Link Fences for Security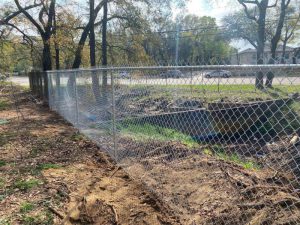 Another misconception we run into frequently is that chain link fences aren't very secure because they can be easily climbed.  While it is true that a standard residential installation of chain link fencing is easily climbed, there are many options that can be used to make the chain link fence one of the MOST secure options you can use in Pace for both residential and commercial applications.
Chain Link Fences for Privacy?
By adding privacy slats to your chain link fence, you can add a tremendous amount of privacy to your fence.  This has actually been a very popular choice for many Pace residential fences recently.  Perfect for backyards and pools, chain link is perhaps the most versatile fence option for your  Pace FL property.
Most Popular Options for Chain Link Fences in Pace Florida
Shown below are some of the most popular options to customize your chain link fence to meet your needs.  Please be aware, that not all options and colors are available at all times.
Galvanized Chain Link Fence
This is the "traditional" or standard chain link fence that is commonly used on homes and businesses in Pace. Simple galvanized chain link can be the least expensive option of all fences (depending on the grade and specs of your specific situation). Galvanized chain link fences are rust-resistant and require minimal care.  They are a great solution for many Pace residential and commercial applications.
PVC and Polymer Coated Chain Link Fence
PVC is a plastic coating while Polymer is a powdered coating. Both options provide a rubberized coating across the metal to give it a nice look and touch, while also protecting from rust and weather damage common in Pace. PVC comes in a variety of colors with black, green and brown being the most popular ones.
Slatted Chain Link Fences
These fences simply involve adding slat inserts into the link material, offering additional coverage and privacy for Pace homeowners. This will increase the price, not just for the cost of the slats, but it will also nearly double the labor and the specs of the fence. This is due to the need to withstand the extra wind loads that the slats will cause.
Slatted chain link fences also offer a much more visually appealing style for many people. These slats are made from robust materials like PVC that come in various colors and finishes, making them one of the more versatile style options available.
Learn More About Chain Link Fences in Pace Florida 
Make sure to visit our Chain Link Fence page on our website for more information and more photos of chain link fences we have installed in Pace Florida and the surrounding area.
Ready to Work With the Best Pace FL  Fence Company?
The fence experts at HighSteele Fencing would love to have the opportunity to show you why we are one of Pace Florida's highest-rated fence companies.  Call us toll free at (850) 889-4059 or Contact Us online. As always, No risk. No obligation. No hard sales tactics … just friendly service!