Your backyard can be transformed into one of your favorite places to relax if it has some privacy and solitude. Being able to chat, hang out by the pool, or have an al fresco dinner without having to worry about an overly-curious neighbor is truly a simple pleasure that most homeowners don't think about – until they get a great privacy fence, that is.
Yes, privacy is king these days and the natural beauty of wood is certainly a great choice to use for your fence.  Even if you've decided on a different material for your fence, there are additional benefits that come with any fence material you use. We've put together a list of perks that you'll get with a privacy fence.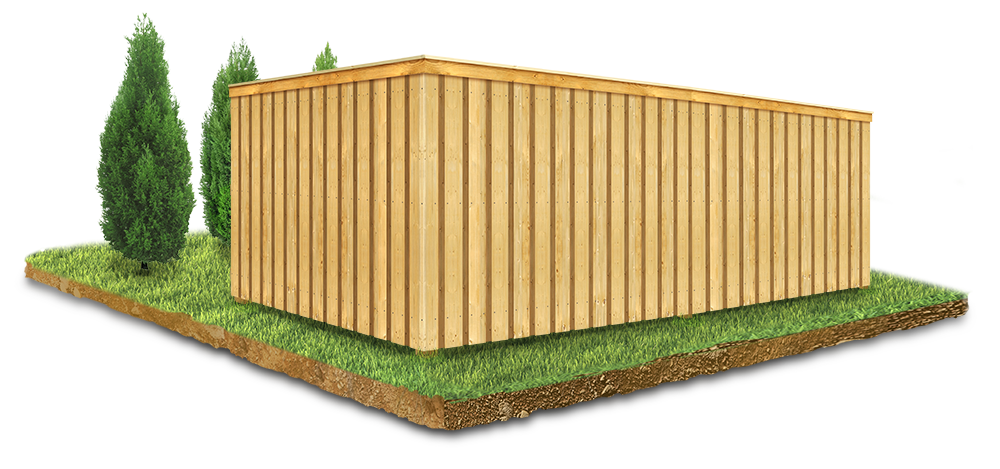 Fences Keep Your Family and Pets Safe in Pensacola
When your kids go outside to play, a privacy fence keeps them in your yard and keeps unwanted strangers away. It will also provide a boundary for your outdoor living spaces so you and your family can enjoy some time together without the neighborhood looking in. 
A traditional Pensacola wood fence provides a defined perimeter so you can give your pet a safe place to roam without the worry of your fluffy pal wandering off to greet anyone he sees. Obviously, a simple wooden fence won't stop a dedicated thief, but it can ward off vandals and others who may commit "crimes of opportunity", and lead to a more secure home overall.
Protection from Weather in Pensacola with Privacy Fences
Privacy fencing is a great way to protect your property from the elements in Florida because of our frequent storms with lots of wind and rain. When there's a storm, your landscaping, plants and other outdoor furniture will benefit from the protection of a well-built Pensacola wood fence.  It can also protect you from the Florida sun at sunrise so you can enjoy a good cup of coffee in your peaceful and private space.  
Mark Property Boundaries with Privacy Fencing in Pensacola
Your Pensacola property is more exposed to trespassers if the border isn't properly defined.  Before beginning construction on your privacy fence, have a chat with any close neighbors who may be affected by your plans and make sure you are aware of the legal restrictions for municipal setback lines and regulations determining what is allowed. It is a good idea to have a land surveyor mark your property lines. When you and your neighbors are clear about your property lines, you can avoid potential problems down the line.  
Noise Barriers Created by Privacy Fences in Pensacola
Privacy fences allow you to have gatherings with friends and family in seclusion without disturbing neighbors and, sometimes more importantly, without neighbors disturbing you. Being a considerate neighbor is the right thing to do, and with a privacy fence, it's that much easier.
In high-traffic regions, a privacy fence may function as a noise barrier, dampening outside noise. No matter which kind of privacy fence you choose for your Pensacola neighborhood, it will still function as a sound barrier that will benefit both you and your neighbors in the long run.
The Value of Florida Privacy Fences
Throughout Florida, an attractive and well-built privacy fence may increase the value of your property in several ways. For starters, it may be a sought-after amenity to future purchasers. A potential homebuyer will likely appreciate a border fence, especially for the backyard space. If a buyer has children or pets, they'll be happy to see that there is already a fence on the property to keep their family safe. Not only that, but the aesthetic value a privacy fence can provide can give you a selling advantage in the future, too.
Florida privacy fences may also add value by decreasing your homeowner's insurance premium when you report the installation of the fence to your insurance carrier. Depending on the company, the extra safety that a privacy fence offers may drastically decrease your insurance cost. Always check before arranging the installation of your fence, to see what their policies are and what benefits you may receive.
Material Options for Privacy Fences 
Pensacola privacy fences are available in a variety of materials, styles, and levels of personalization. Pensacola wood fences, chain-link fences, and vinyl fences all have options for improving your privacy that you will love.
Wood privacy fences are available in different heights and styles, like stockade and shadowbox configurations. Chain link privacy slats come in several colors, and they fit into the chain-link gaps to increase the amount of view obstruction. Also, vinyl privacy fencing provides low maintenance and longevity. In our photo gallery, you can see all of these designs and examples of projects we've done with these fence materials. Start by looking through our gallery of finished fencing projects for ideas for your own privacy fence.
Secure Privacy Fences for Pensacola Property Owners
A privacy fence by High Steele Fence in the Pensacola, FL area offers the best level of security for both residential and commercial properties. You won't be visible from outside your yard, and it serves as a defined barrier that shouldn't be crossed. Intruders may not be completely deterred by a privacy fence, but they will be put off by the difficulty of getting in and out of your yard or business.
Pensacola Privacy Fences are Strong and Durable
Privacy fence materials in Pensacola, FL each has its own advantages and disadvantages. Our recommendation for a Pensacola wood fence is to use cedar planks. Cedar is an all-natural product, resistant to insects, rot, and decay, and has great durability. Next in line is pressure-treated pine – a main benefit of pine is that its upfront cost is a bit less, and while it has that natural charm, it doesn't quite have the longevity of cedar.  
A chain-link privacy fence's galvanized steel framing and composition have made it a popular choice for Pensacola homes and businesses because of its long-term durability and minimal maintenance costs.
Vinyl privacy fences in Pensacola can survive the strong winds and weather without fading or warping because of their durable material design. They also have a clean, bright aesthetic.
Get the Benefits of Pensacola Privacy Fencing with High Steele Fence!
No matter which material you choose for a privacy fence, you'll want to make sure you work with a contractor that uses quality materials and provides expert installation. At High Steele Fence, we set our standards high AND we offer a lifetime workmanship guarantee! You can use the instant quote tool on our website or call us today at (850) 889-4059 for answers to your questions so you can get started on your project plans. Experience the High Steele Fence difference for yourself!